An apron (Tablier) is an outerwear with a design that primarily shields the front of the body to prevent stains from sticking. Aprons are used for many different purposes, but you will often find many in restaurants, hotels or women in the family when entering the kitchen.
Aprons contribute to the beauty and elegance of the restaurant's space, and also avoid other impacts to make clothes cleaner when working.
Structure - Utility Features APRONS at Thu Huong
- Depending on the needs of use, there will be apron patterns designed with the corresponding materials such as cloth apron, jean apron, waterproof apron, ... with light and soft material. and make sure the clothing is shielded from stains.
- Designs include 2 common designs: bib apron and short apron.
- In terms of design, apron as well as clothing types, it is very diverse and has no certain framework. Design will depend on the industry that you are operating to from which ideas and build designs like the best.
- Using 4 new, most modern and advanced printing technologies on the market. Therefore, the print quality is always durable - beautiful, sharp to every detail.
Value to users
- The main use is to shield the clothes from stains, from the smell of food when entering the kitchen, during work.
- Protect the user's body, ensure their health during work. Since then, it creates a feeling of peace of mind and comfort when doing kitchen, housework, company work, ...
- Recognize brands, create fashion style.
Aprons at Thu Huong have all the quality testing papers in accordance with the current regulations of the Vietnamese government.
Thu Huong Fashion has a full system of modern machinery and a team of professional staff for the production of quality aprons. Come with us, you will surely be satisfied.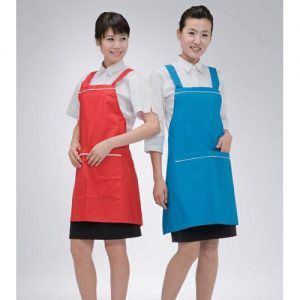 There are no videos for this product yet.