Spa uniform is the uniform used for employees of the system of Spa facilities, beauty salons. Spa uniform samples for staff help create the first impression for customers to the service, they are considered the perfect marketing strategy, leaving a deep impression, a friendly look for customers from the very beginning.
The choice of the Spa uniform is very important. It must be designed according to the salon's brand name and must be cool, comfortable to wear.
Structure - Utility Features Spa uniforms at Thu Huong
- Fabric is thick, soft, strong ability to absorb sweat is the top priority.
- Design: Unique, beautiful, catching up with fashion trends. For female uniforms, there is a stylish and discreet design.
- High elasticity.
- Diverse designs, designs bring more choices.
Value to customers
- Bring the shirt owner a comfortable and light feeling to the wearer.
- Create relaxation, dispel fatigue, daily work pressure. At the same time, it helps increase employee confidence when wearing and interacting with customers.
- Create a friendly image, show professionalism and increase Spa brand value.
Spa Uniforms products at Thu Huong are full of quality testing documents in accordance with the current regulations of the Vietnamese government.
Thu Huong Fashion specializes in designing and manufacturing professional and prestigious Spa uniforms with many years of experience. Coming to Spa uniforms at Thu Huong, customers will have many options for designs, fabric materials and decorative specifications such as printing - embroidery on products.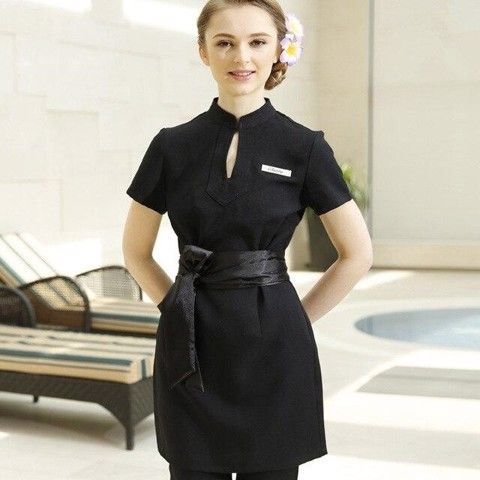 There are no videos for this product yet.